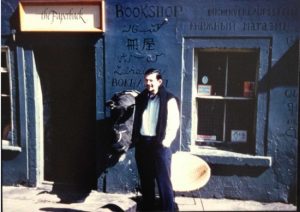 The Jim Haynes Living Archive: a brief history
In May, 2014, a burst water main required the contents of the archive to be rescued. In doing so, a cacophony of material was discovered, packed layer upon layer for decades within the basement and around the ateliér.
Obscure ephemera combined with a trove of significant correspondence were discovered — chronicling Haynes's life from childhood, but most significantly his participation, among others, in the Edinburgh 1962 Writer's Conference, establishment of Britain's first all-paperback bookshop in Edinburgh, co-founding of the Traverse Theatre, and founding of the London Drury Lane Arts Lab.
On 25 June, 2014 a letter was signed by Haynes and notarised by Laurent Mazyrie in Paris authorising Belk permission to handle the project.
Extensive preparations were then undertaken to remove, list as best as possible, suitably pack and ship the contents to Scotland. Over the subsequent two years, two major shipments and several smaller ones consisting of approximately 135 cartons were shipped. Rare and sensitive materials (such as magnetic tapes) were hand-carried by Belk through customs and security on the Eurostar.
The first location attempted for placement was Edinburgh University. This decision was seemingly logical at the time, given permission from Haynes's military officer to attend classes there is part of the archive and a major part of his initial Edinburgh story. In addition, Haynes had recently been honoured with two statues — "Rhino Head", commemorating the Paperback Bookshop and "Haynes Nano Stage" on the campus. However, after extended correspondence and a meeting on 15 April, 2015  and storage site visit by an Edinburgh University official, it became clear that Edinburgh University was not a perfect fit.
Following this, a colleague, Angi Lamb of Edinburgh University Court, recommended Edinburgh Napier University as another suitable entity. Not only had friend/colleague John Calder received an honorary doctorate from the institution, it was later also revealed that Haynes had taught there for a short while.
An email was sent to then-Dean Pauline Miller-Judd, presenting the project. A meeting was scheduled between Dean Miller-Judd, and Linda Dryden, Director of Studies with Belk on 8 December, 2015 and the contractual stage was thus initiated.
In February, 2016 the Dean and Belk met in Paris with Haynes and the contracts for the archive placement were executed at the law offices of Olivier Hoareau.
In August, 2016 Haynes's latest book World Citizen, at Home in Paris was published in a joint  effort between Belk and Napier at the Edinburgh International Book Festival, also hosted by Edinburgh Napier University.
In 2017, Belk made petition to the Dean to consider Haynes for an honorary doctorate. The petition was accepted and the honorary degree conferred in June of2018 at a special ceremony in Edinburgh.
In November, 2018 Alison Scott, an experienced archivist joined the JHLA team and continues to organise the collection catalogue.
A major launch event, planned by now-Dean Diane Maclean, Belk and Napier Marketing Director Geoff Day was scheduled for the August festivals, 2020 — however this was put on hold due to Covid-19 pandemic.
Currently focus for the JHLA has been shifted online, with new forthcoming initiatives.
-Martin Belk